Projects
Self-Determination & Long Term Growth - Laying the Groundwork for the Kwikwetlem Business Park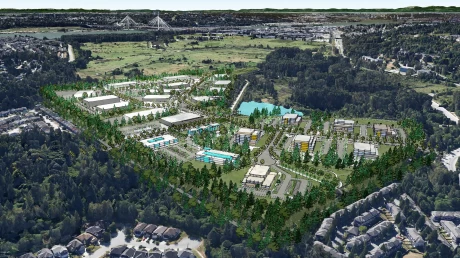 Client: Kwikwetlem First Nation
Location: Port Coquitlam, BC
---
Since 2013, Radloff has been providing engineering and planning services for Kwikwetlem First Nation's ambitious 97-acre Business Park development; a project worth $600 million. This included road, water, sanitary and stormwater infrastructure designs. With regards to stormwater, this development included site grading and onsite treatment works, as well as bioswales and stormwater retention.
Assessing connections to existing municipal services was key in identifying any required offsite upgrades as part of the overall design.
Site planning addressed numerous factors such as market drivers for commercial and light-industrial land, objectives of Kwikwetlem First Nation, traffic impact analysis, compatibility with municipal objectives through their official plans and bylaws, cultural amenities, site servicing, and public use. Each of these factors and others contributed to the team's development of the Master Plan and Design Guidelines.
In addition, Radloff acted as lead on a Comprehensive Municipal-Type Service Agreement (MSA) with the neighbouring municipality to provide not only water and sanitary sewer services, but a number of other services such as road maintenance, fire rescue services and bylaw services.
Visit their website: https://www.kfnbusiness.ca/kwikwetlem-business-park/
Project Duration:
2013 – Present
Project Team Participation:
Bob Radloff, P.Eng – Senior Engineer
Dan Adamson, MRM, MCIP, RPP – Project Manager & Lead Planner

Kwikwetlem First Nation Develops Port Coquitlam Industrial Site

Kwikwetlem Plans to Build


---
---